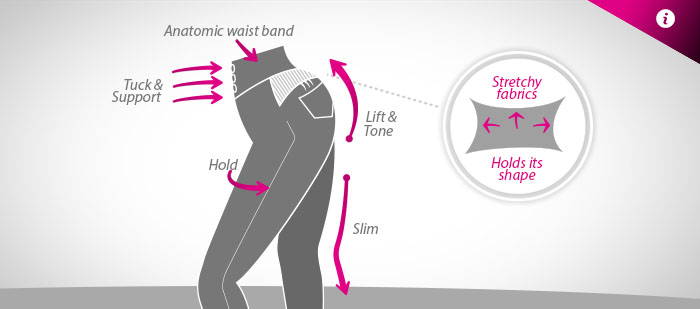 Butt Lifting Jeans (also called Body Shaping Jeans, Push Up Jeans, Jeans Levanta Cola, Booty Up, Bum Up, Bottom up, Denim Shapers, Shapewear Jeans, etc) are specifically designed to highlight your curves, trim your tummy, thighs and legs all while lifting your butt.

These kinds of jeans originate from Brazil, but have become so popular that companies from all around the world now create and manufacture these butt enhancing type of denims, Colombia and Brazil being the worlds leading countries in manufacturing these butt enhancing jeans.

What are the differences from normal jeans? How do the butt lifting body shaping jeans works?

The manufacturers make use of new designs and cutting/sewing technologies to lift and firm your entire lower body. It is all about creating and highlighting a feminine curve.However they won't build a butt you don't have, and they don't do miracles. However they will help in many ways giving you a better looking figure. They work more like shape wear, let's see how:

-More fabric and special stitching at the rear… This will give room for your butt (avoiding the flat effect most jeans have), the stitching in some parts of the jeans (above the pocket line and sometimes side way) will define and give you a rounded effect, you will find the rear looks firmer. (no surgery for this thank you!)
-Good quality super stretchy fabrics… The more stretch and tight the more lifting and firming they will be, these fabrics are designed to hug your figure and keep their shape for longer, although they look stylish these jeans are heavy duty, you can wear then all day long.
-Wide waistband and button fastening… The waistband that sits just below the belly button or higher will slim your hips and those nasty tires around you muffin top area. Fastening your jeans with multiple buttons is like having a shaping grid around your waist; it simply does the same thing, tucks your tummy!
-Washes, colours, pockets and embellishments… The final touches, it is all about the visual illusion, if you want to look slimmer choose dark colours or a dark wash jean, maybe a pair of jeans with no pockets and few details. If you want your butt look bigger washes at the back or decorated pockets can make the difference.
Imagine: No more flat bottom, or baggy jeans, or boyish figure!
Click here to find a good selection of embellished jeans and colours for all tastes.
Find your perfect fit now!