BEHIND THE SHAPING DESIGN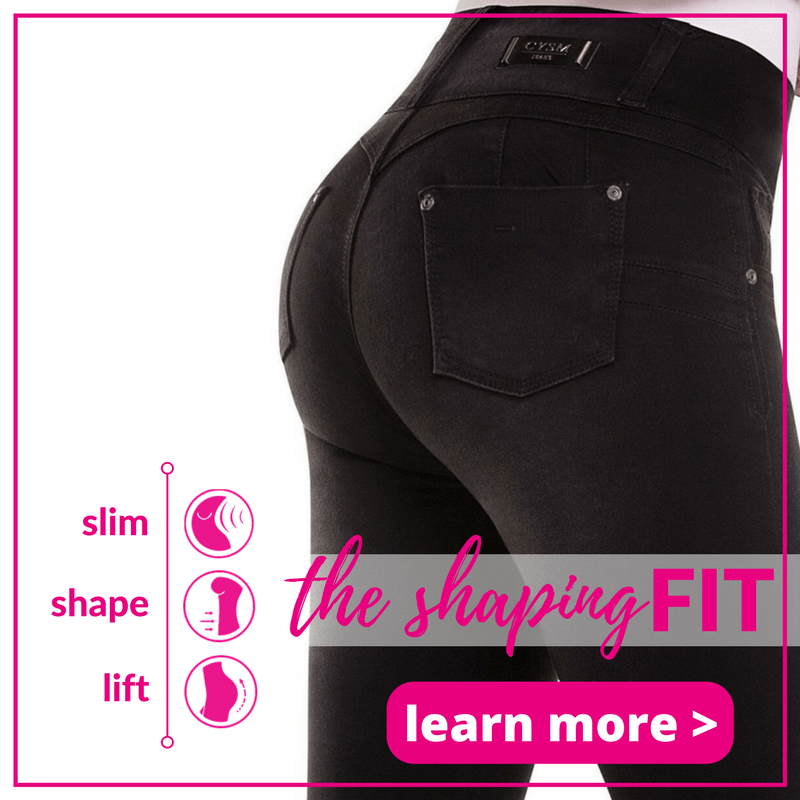 The technology behind the design of our Shapewear Jeans, studied the curves of real women to offer a fit that adapts to your body and flatters where you most need it by targeting your belly, bum and thighs, and secretly offering a better moulded and toned bottom! Each piece offers you:

Wide waistband that flattens your tummy

Heart-Shaped yoke for rounder buttocks

Comfy stretch denim fabric to hold and smooth

Hidden seams to secretly shape-it-all

Beautiful and unique stylish designs to keep you trendy

Disclaimer: Results may vary according to your body shape, please note that images on the site are for guideline purposes. We recommend choosing an appropriate size and style for your body type along with some advise from our Denim Team in order to ensure the best fit for you.
BEFORE AND AFTER TRANSFORMATION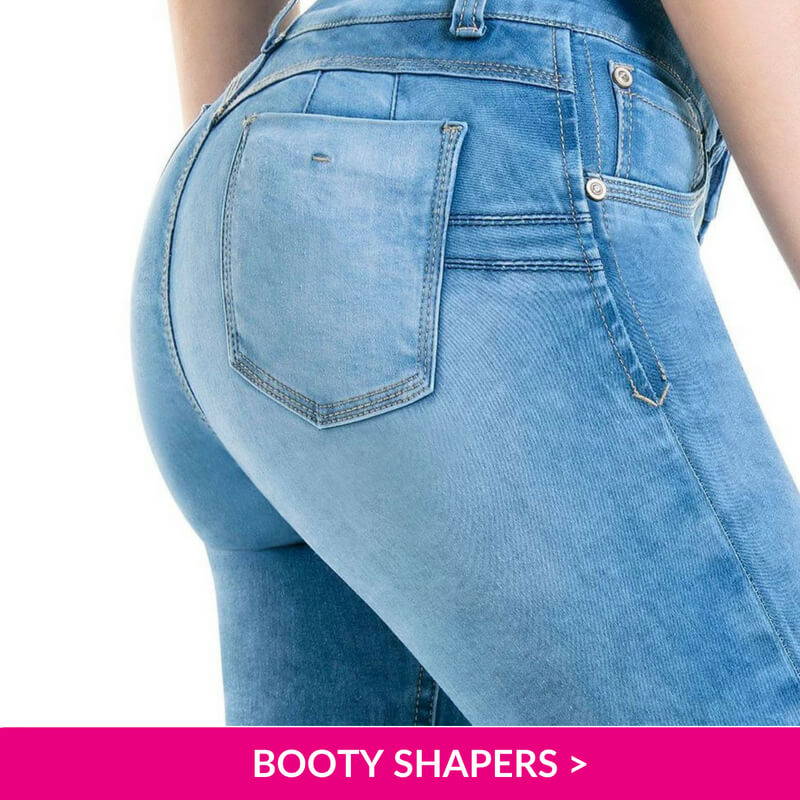 The booty shapers are Shaping Jeans designed to lift and tone buttocks with perfect pocket placement and heart-shaped yoke to create the booty effect. Available in a single button and double button waistband.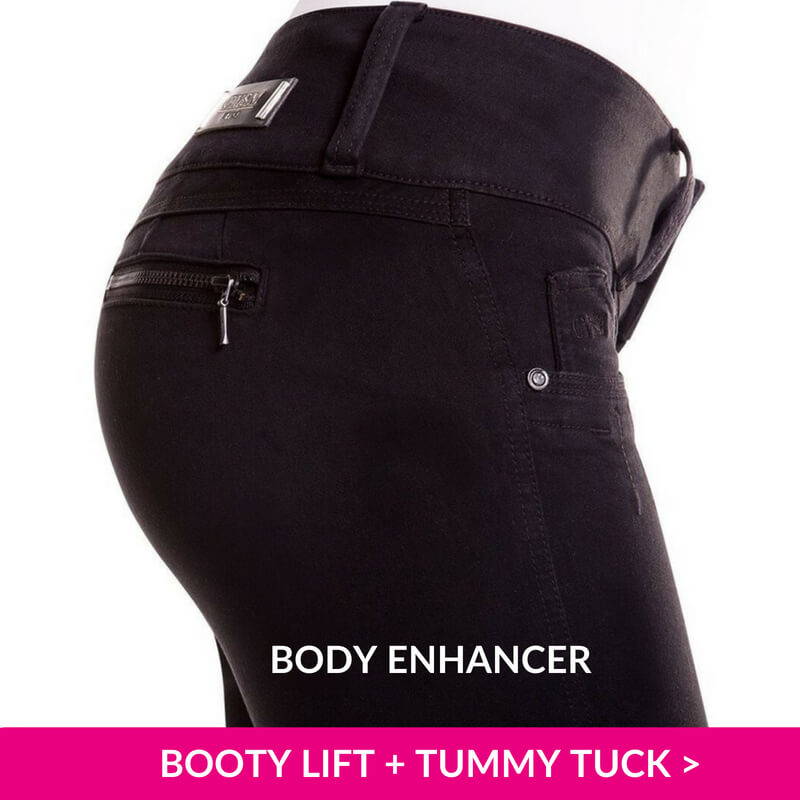 The body enhancers are all-in-one external shapewear garments using strong premium denim and special anatomical designs to hold and shape. Great for those who want to tuck the in tummy, push up buttocks in a sexy way.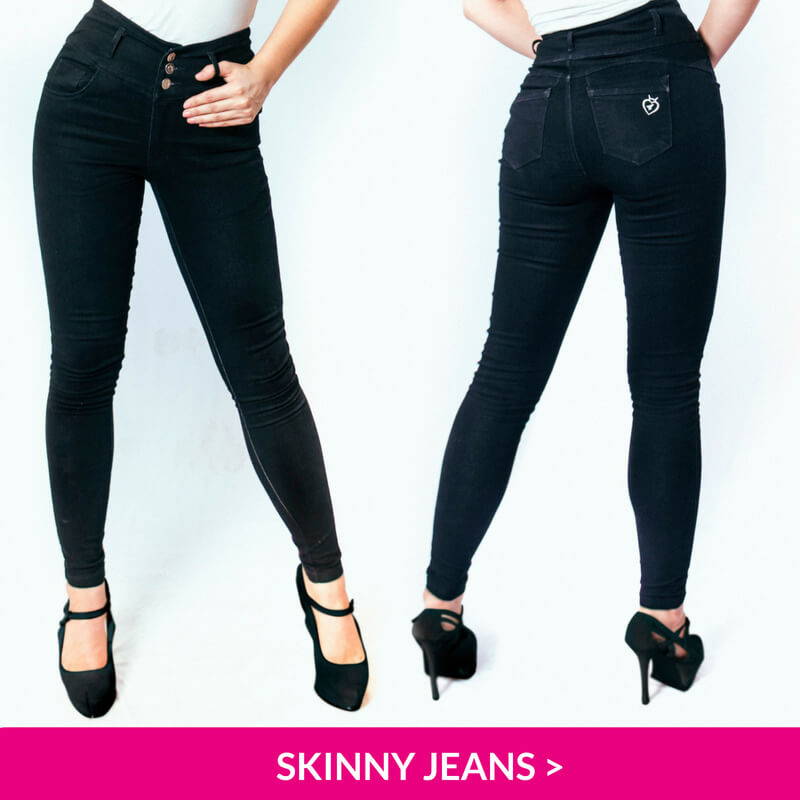 Fitted Jean from thighs, knee to ankle
Features:
Helps slimming you figure
Recommended Body Shapes:Petite, Hourglass, Rectangular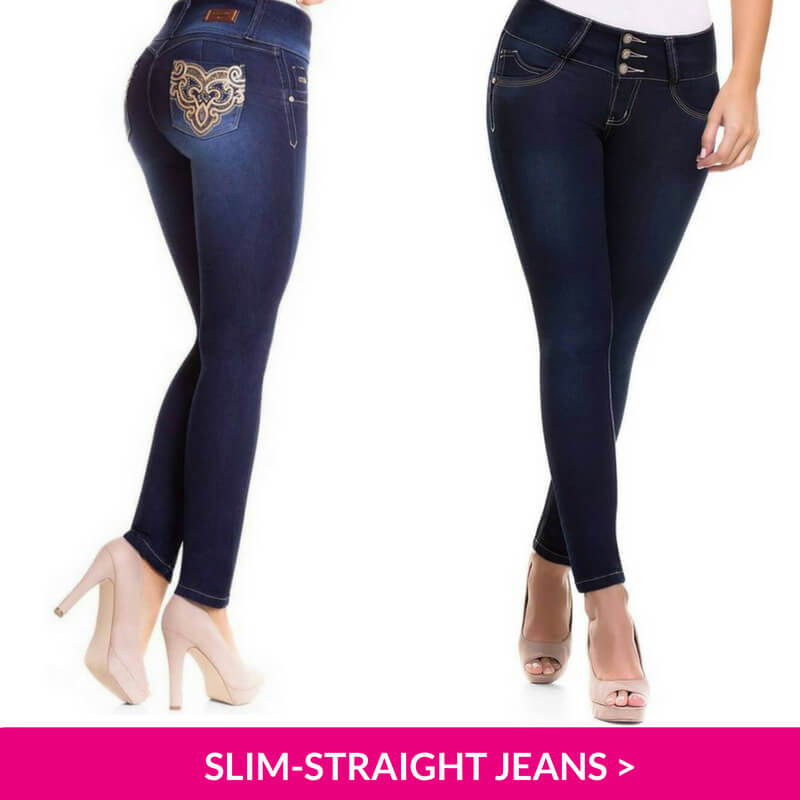 Fitted Jean from thighs to knee slightly open trough the calf all the way down
Features:
Helps balancing your figure
Recommended Body Shapes:Hourglass, V Shaped, Apple, Pear-Shaped, Athletic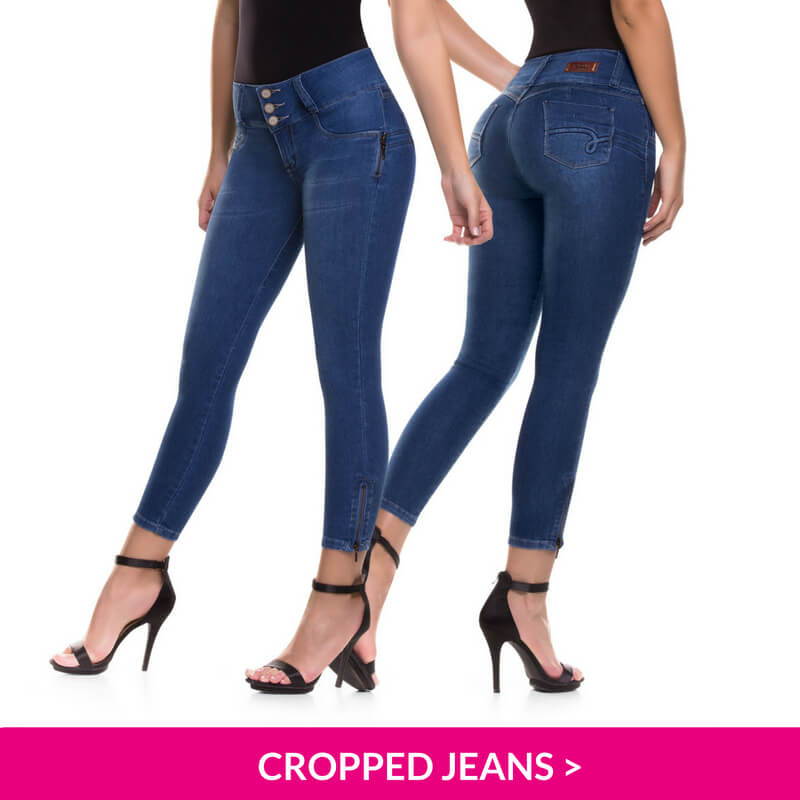 Cropped Jeans go from Capri to 3/4 length.
Capri ranging between : 40 to 46 cm Inseam3/4
Cropped between: 66 to 68 cm Inseam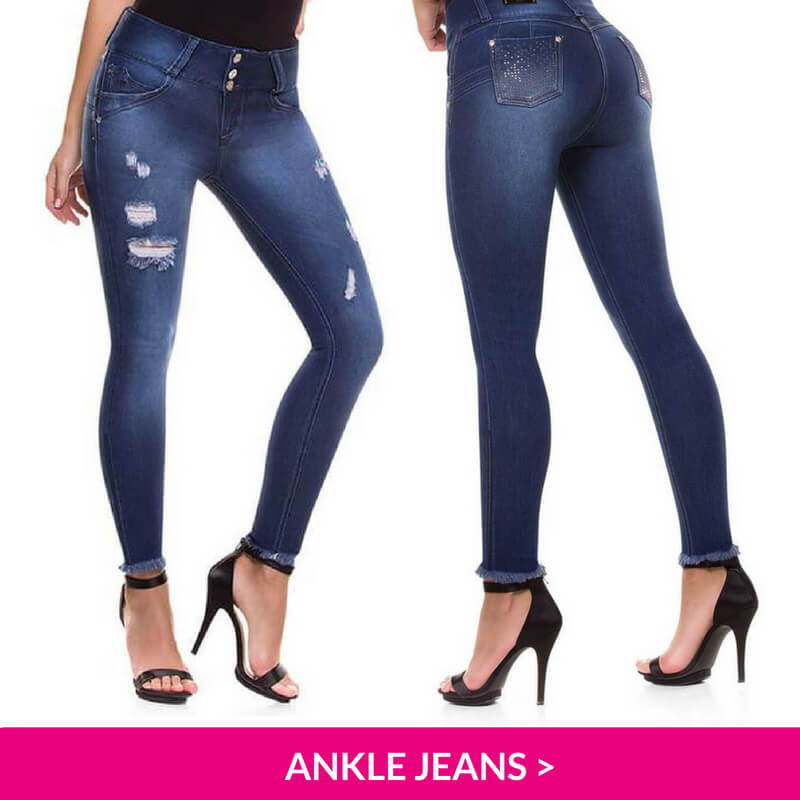 Our Ankle length goes from 70 to 72 cm Inseam(Not suitable as a full length for petites, the design is based in average height)
*Always check the product description to make sure about specific inseam of any particular style.
This guide is general and its based in average women height, pictures in site are a reference and Jeans are usually shown in models with an average height of 1.70mJeans might fit longer or shorter depending on your inseam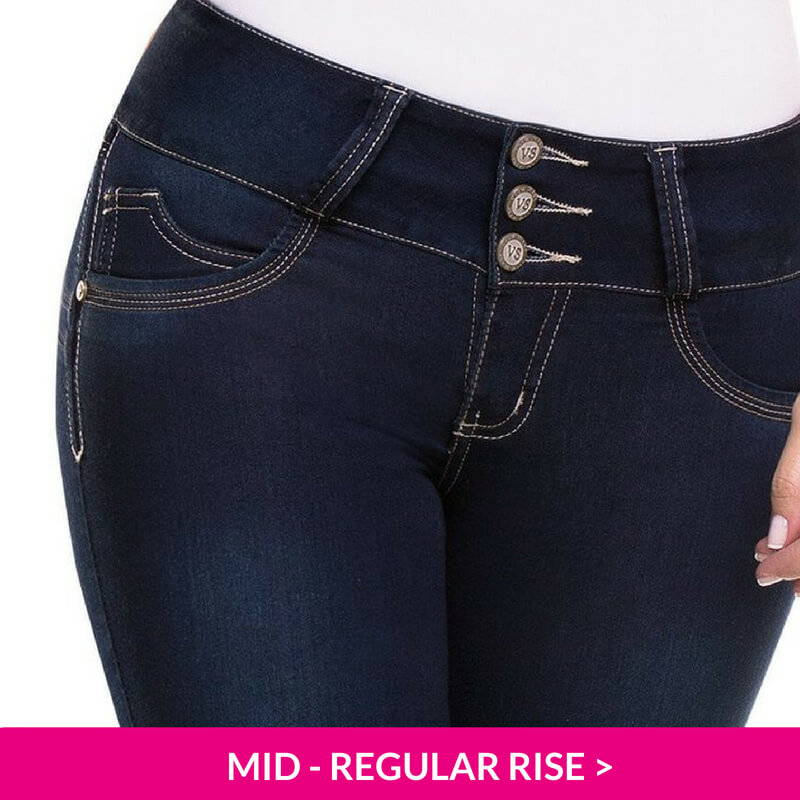 Mid and Regular Rises are specially recommended for:
Women with short torso
Women wanting to target and tuck in mid to lower abdomen
Women wanting to create curves
Apple and Rectangle body types
MID RISE> ranging from 22 to 24 cm from crotch seams to top
REGULAR RISE> ranging from 25 to 26 cm from crotch seams to top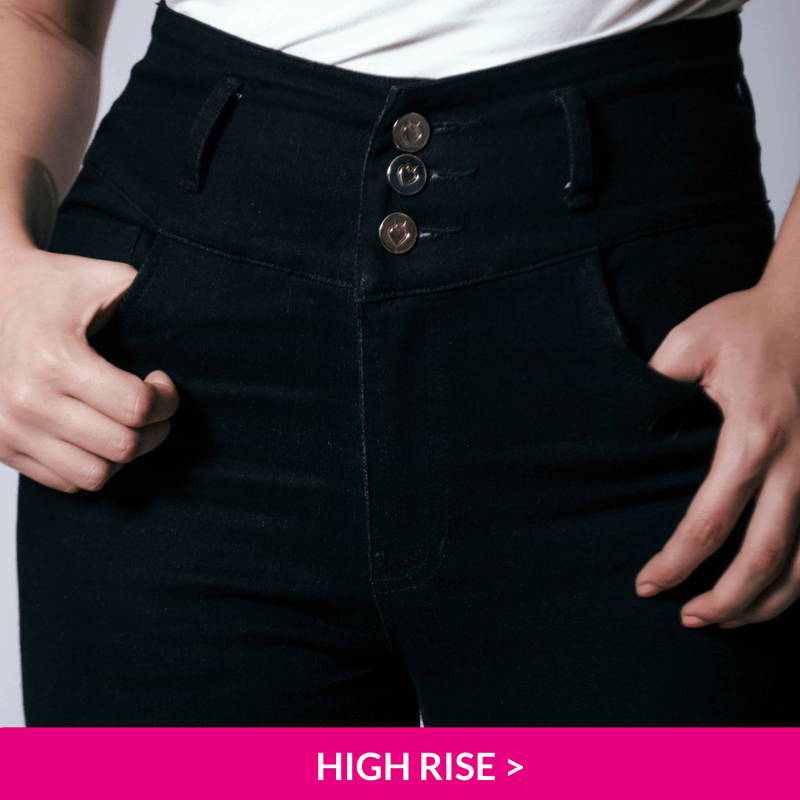 High Rises are specially recommended for:
Women with average torso
Women wanting to slim abdomen and muffin top
Women wanting to highlight waist
Avoiding the waist to hip gap
Pear and Hourglass figures
High Rise ranging from 27 to 29 cm from crotch seams to top
How to choose the right rise for your body type?
As Body Shapes, every women has a different Rise from crotch to navel, that's why sometimes short women find that high waisted jeans are too high and tall women can't stand a low waisted jeans as it sits too low, the reality is: if you want to feel comfortable, you need to wear the rise of your jeans according to your real measurements despite on what's trending.
Our guide is a general one based on average measurements.
Our recommendation is to follow this steps to find an appropriate rise depending on where you want your Jeans to sit:
1. Wearing your favourite jeans, take a measurement tape and measure from the crotch seam upwards to your belly button. This will be your highest rise.
2. Then measure from the crotch seam up to two fingers below your belly button. This will be your most comfortable rise you should wear for your body shape.
3. The last measurement is for the lowest rise you can wear, so measure from the crotch seam up to three fingers below your belly button.
With these numbers you are ready to look for the perfect jeans whether you are looking for a high waisted , mid rise or low cut, compare these measurements with the front rise of the Jeans that appears on the product descriptions.
.
Looking for Shaping Jeans Sizing Guide?